let us fight your


next battle
So You Can Take Your Life Back
let us fight your


next battle

So You Can Take Your Life Back
200+ years of combined


legal experience

If you have been injured in an accident in Lincoln, Omaha, or any other part of Nebraska, you may be in the most important battle of your life. At Berry Law Firm we take winning seriously. We do the things necessary to get the results our clients deserve.

You're injured, not broken.

Our clients look to us for counsel, direction, and guidance when the justice system seems overbearing and overwhelming. At Berry Law Firm our team of well-trained attorneys know what's at stake and what it takes to win. We have spent our professional careers sharpening our skills to zealously advocate for our clients and relentlessly pursue the best possible outcome for those who entrust their futures to us.

Berry Law Firm has provided quality counsel and trial representation for its clients since 1965. If you or a family member has been injured in a serious accident, you can benefit from our history of litigation success. Contact one of our personal injury lawyers in Lincoln for a consultation about your right to compensation.
To see our other areas of practice, please visit our main website by clicking the button below.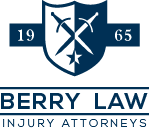 CONTACT
6940 O St, Suite 400
Lincoln, NE 68510
(402) 466-8444
The information on this website is for general information purposes only. Nothing on this site should be taken as legal advice for any individual case or situation. This information is not intended to create, and receipt or viewing does not constitute, an attorney-client relationship. © All Rights Reserved.