trucking Accident


attorneys

Being involved in a car accident can be frightening. However, being involved in a commercial truck accident can be even more terrifying. When dealing with a commercial truck accident, there are several ways to proceed. An experienced attorney can provide you the appropriate insight to the correct process. If you are injured in an accident involving a commercial truck, it is imperative that you immediately contact an attorney familiar with the federal regulations concerning trucking and trucking litigation.

Furthermore, trucking companies are often structured in a way that makes it difficult to track down the proper entity against whom a lawsuit should be filed. They frequently go out of business, file bankruptcy, and disappear. Having an attorney experienced in trucking litigation can prove valuable when trying to track down the proper party to file a claim against.
who you can sue
It is important to be aware of all parties involved. Knowing all parties involved and the circumstances under which the accident occurred will better equip you in determining how to proceed with your claim. More specifically, who you can sue:
The company who owns the truck
The company who employs the driver
If you are involved in a commercial truck accident, it is imperative that you act immediately in order to maximize your chances of holding the at-fault company and driver accountable for the damages they caused.
If you have been involved in a commercial truck accident, contact Berry Law Firm's team of attorneys today for a free consultation.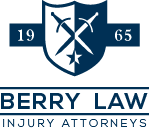 CONTACT
6940 O St, Suite 400
Lincoln, NE 68510
(402) 466-8444
The information on this website is for general information purposes only. Nothing on this site should be taken as legal advice for any individual case or situation. This information is not intended to create, and receipt or viewing does not constitute, an attorney-client relationship. © All Rights Reserved.