product liability


attorneys

Berry Law Firm is experienced and qualified in handling product liability cases. If you think your accident was caused by a defective, dangerous, or mislabeled product, then you may be entitled to compensation.
There are four types of defects that have the potential to cause injury. Each of these could place liability in the hands of a manufacturer or supplier.
Design Defects
The product(s) design contains an inherent flaw or error that causes the product to be unreasonably threatening or dangerous.
Manufacturing Defects
An error in the manufacturing process has made the product dangerous to the consumer.
Marketing Defects
A product(s) description or advertisement does not align with the products services rendered.
Warning Defects
A manufacturer completely fails to include a warning on a potentially hazardous machine or product(s).
When deciding whether to file a lawsuit, it can be helpful to keep the following in mind:
You do not have to be the original buyer
you do not have to use the product
the product does not have to be new
If you are unsure on whether or not you have been impacted by a defective, dangerous, or mislabeled product, it is best to seek legal advice. Please contact our office at Berry Law Firm to set up a free, initial consultation.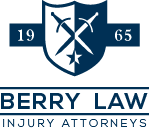 CONTACT
6940 O St, Suite 400
Lincoln, NE 68510
(402) 466-8444
The information on this website is for general information purposes only. Nothing on this site should be taken as legal advice for any individual case or situation. This information is not intended to create, and receipt or viewing does not constitute, an attorney-client relationship. © All Rights Reserved.